behind the site
I've never been good at keeping diaries, and (despite my attempts) that has been proven true for onlines ones a.k.a. blogs as well.
This blog has gone from subdomain to domain and back under different names (and hosts of course): Fleeting, LeRomantisme, Light On, Flyhigh.nu, Hikarimono...all of them not really satisfying; then a domain name I had been dreaming of (wanting it for this very blog) for years got back on the market, and I knew that was it. Thankfully I was able to snatch the tld, which leads to my final blog
Skyblue
.nu
. ♥
Webmaster :: Lucien.
Domain :: Register.
Hosting :: BeezerHost.
Open Since :: September 1st, 2020.
Best view :: Mozilla Firefox with a 1280x800 resolution or higher.
Far off skies
old versions
Skyblue's previous looks, from newest to oldest.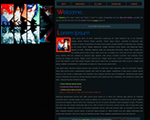 All the previous shades of blue